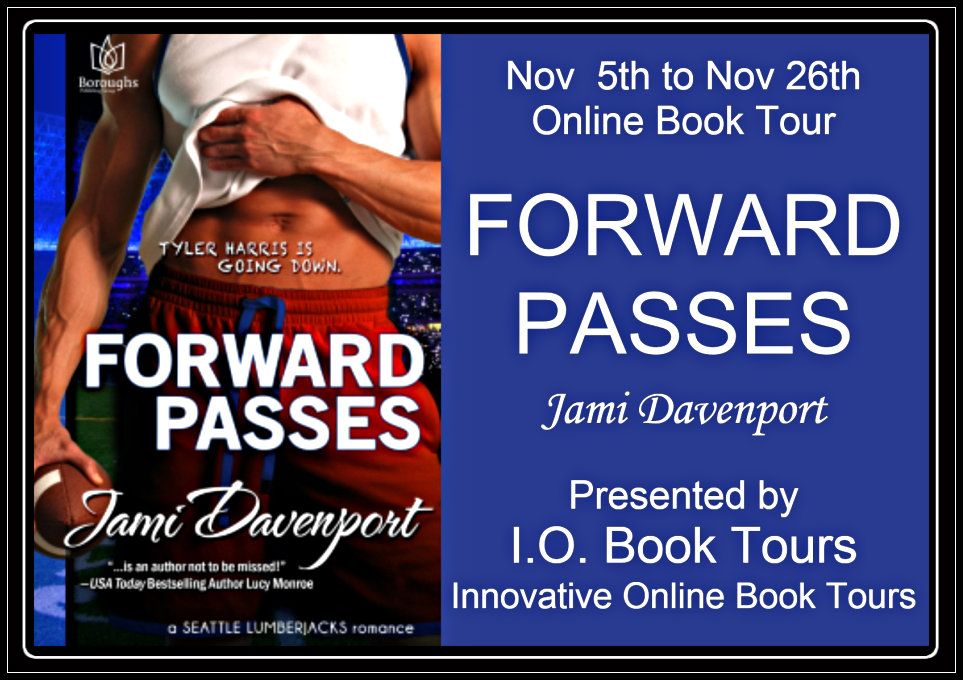 Quarterback Tyler Harris is about to find the woman who can get past his defensive line and reach his heart.
With two championships in as many years, superstar Tyler Harris is the best quarterback in the league. Gorgeous and rich, he's at the top of his game. But everyone's looking to take him down. There's a building media frenzy around an unfortunate accident, and the only safe place seems a rundown mansion deep in the San Juans and owned by his late great uncle. There, Tyler gets sacked by the sassy redhead next door. It's more alive than he's felt in years.
Lavender Mead has a good reason to dislike jocks, namely an absentee father who deserted the family to coach college football. Maybe that explains her penchant for bad boys who play ball for a living and break hearts for a hobby. Her new neighbor seems just the type. Yet, something is different about Tyler, and sometimes love requires a Hail Mary. You draw back your arm, pray…and give it all up to fate. And sometimes you win your ring
JAMI DAVENPORT
"…is an author not to be missed!"
—USA Today Bestselling Author Lucy Monroe
There are two things I've always wanted to do since I was a young child: to write books and to ride horses. The riding I've been doing for years. Until recently, I only dabbled in writing.
I completed my first story at the age of five. I titled it "Wildfire" (about a horse, of course) and illustrated it myself. I still have the book stowed away in the attic somewhere.
I've written stories all of my life. They were my secret garden, my escape from the realities of the world. I never shared them with anyone. I'd hide them away and bring them out when the mood struck me.
I frequented several fan fiction sites on the Internet. As I was reading those stories, I thought I can do that. Four years ago, I posted my first two chapters on a fan fiction site. My hands shook. My stomach lurched. NEVER had I let anyone read my stories before. What if my writing was garbage? What if everyone hated it? It was a soul-baring moment. Fortunately, they loved it. It became quite popular. Several people who'd befriended me on that fan fic site encouraged me to pursue my writing on a more professional level.
Being a devoted reader of romance and an advocate of happy endings, it was only natural to choose romance as my focus. I joined the Romance Writers of America, and the Olympia RWA chapter.
Six months and 105,000 words later, I finished my first manuscript, The Dance. Named after Garth Brooks' popular song, the original ending wasn't happily ever after, but I quickly changed that small detail. I started my second single title on Thanksgiving Day and pushed myself to see how long it would take me to finish it. I finished it the middle of February and was very proud of myself for being so fast.
To date, I've published four novels and two short stories in an anthology.
A few years ago, I married a wonderful man. You can bet my Green Beret turned Plumber will be an inspiration for a future book. In my spare time, I show the above-mentioned Hanoverian mare, in dressage. I'm also a rabid Seattle Seahawks and Mariners fan through thick and thin. Lately, I've developed an interest in gardening.
An avid boater, I've spent countless hours in Washington State's San Juan Islands, the most beautiful place on earth, and the setting for "Who's" and "The Dance." You'll see more books in the future set on these islands. My banner and several other pictures on this site were taken in that area.
Currently, I'm a PAN member of RWA and three RWA chapters: Peninsula, Greater Seattle, and Olympia. I'm co-president of the Olympia chapter with fellow writer Anthea Lawson. I spearhead the annual Elizabeth Kistler Memorial Retreat in Port Townsend at Manresa Castle for the Olympia chapter.
Review:
Superbowl quarterback Tyler Harris should be celebrating his newest win, but he finds his excitement lacking and making another blow to his already tarnished reputation. Needing a breather he finds himself accepting the terms of a will that leaves him inhabiting a mansion in much need of help, but there is one positive to his temporary move his neighbor stunning Lavender Mead whose immediate hate for him is providing him with a new form of entertainment. Two people who are polar opposites find their mutual attraction to one another forming into a passionate relationship neither was ready to have and unless they address the baggage they both carry they could end up the best thing that ever happened to them.
The second in the Seattle Lumberjack series. The banter between Lavender and Tyler is like a seductive dance of foreplay, humorous and sensual wrapped all up in one. Tyler tries to be such jerk to keep up the guarded walls he has sheltered himself with, but he is drifting and Lavender begins to see there is much more to the dumb jock then she initially thought. I am a big fan of this series and this addition makes me firmly believe they are just going to get better and better as it continues.
·
Website www.jamidavenport.com
·
Blog jamidavenport.blogspot.com
Giveaway: Rafflecopter
a Rafflecopter giveaway
If you cannot use rafflecopter here is a link
Rafflecopter
: